Tips on Finding The Best Corporate Catering Company in Dubai
With thousands of caterers in Dubai, it can get quite overwhelming to find a caterer that can deliver the best results for your next corporate event.  Individuals usually go for the most cost-effective option, which can result in poor quality and overall unsatisfactory corporate event. These are a few simple tips to find the best catering company in Dubai for your next corporate event.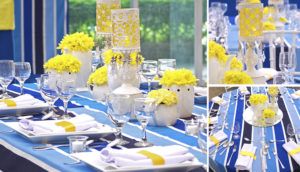 Inquire early
According to a survey, Most UAE residents book a catering service just one week before their event which can usually cause some difficulties. If you are looking for a caterer that specialises in corporate event catering, you need to start researching early and shortlist a few options in hand so that you can make an informed decision. So enquire early and make sure you have a few good catering options who are able to manage time well and deliver in a short period of time as well.
Find ratings and reviews
The next step after you have found your shortlisted catering companies in Dubai, do a background check and look for reviews and ratings. No one wants to handover over a corporate catering event to an inexperienced catering company that doesn't have the knowledge on how to handle events of that scale. Through reviews and ratings, you might also find the type of catering which has been most successful and most liked by their customers. At Taste Studio, we are proud to have been rated 4.9 on Google Reviews and have delighted over 400 clients.
Flexibility with menu options
The main focus when hiring a catering company in Dubai is definitely the menu selection they offer. If the menu selection is ordinary and standard, they clearly won't be the right choice for a high scale corporate event. Especially in a multi-cultural city like Dubai, you must look into various dietary concerns, vegetarian options and HACCP and halal certification when you request for a menu because when it comes to food, safety is the most important concern.  At Taste Studio, we invite you to get in touch with our management and be rest assured that all your menu requirements will be fulfilled and your safety will be our first priority.
Plan for a menu tasting
The menu, presentation and service is all secondary when it comes to the flavour and taste of your menu, along with the service provided by the staff. Most caterers will showcase their best selection of food but you can't rely on the quality of food until you go for a menu tasting. It's essential to plan for this especially for a corporate event so you can avoid any culinary surprises on the big day and also you get an idea of the service you can expect. At Taste studio, we are more than happy to plan a menu tasting for you and work with your specific guidelines and expectations on all the aspects of your catering event.
March 9, 2020

|

Categories:

Blog